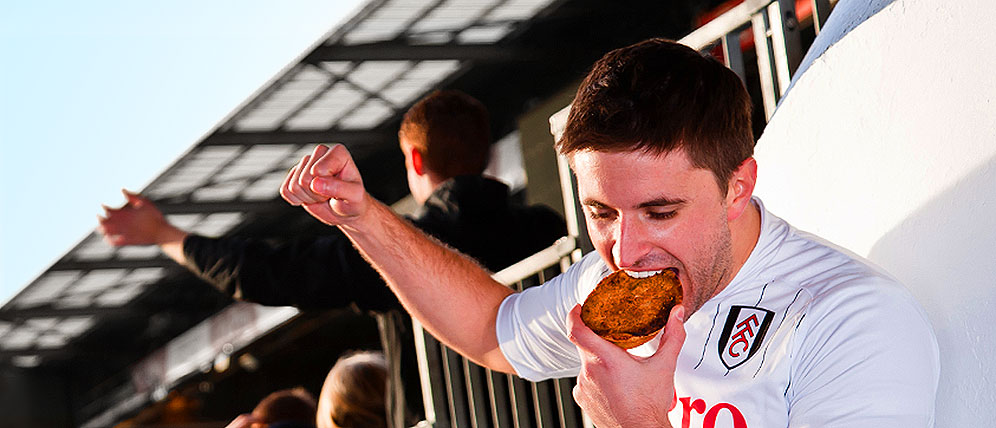 If you are a season ticket holder and you can't make a game you can sell your spare seat to another fan on viagogo, the official ticket marketplace of Fulham FC. You don't have to sell your seat to claim your pie!
Register
*You will need your season card number. Terms & Conditions
viagogo terms and Conditions
To claim your free pie you must link a valid Fulham season card to your viagogo account.
This must be a card which is not currently linked to an account on viagogo.
Entry is limited to one per account holder. You cannot open an account, close it and then reopen a new account in order to be eligible for multiple pies.
Deadline for entry is 11.00 on 23/02/2013.
If you have successfully linked an eligible season ticket and qualify for a free pie you will be emailed with details of how to collect your pie voucher. Pies vouchers can only be collected at the designated time and date. Your free pie can only be collected with a valid pie coupon.
Strictly one pie to be collected per voucher.
Your free pie voucher can be collected at the United game, 02/02/2013 from 15.30 - 17.30, or at the Stoke game, 23/02/2013 11.00 - 12.45. viagogo reserves the right to change pick up times and details.
The coupon is non-transferable and non refundable and no cash alternative will be offered.
The promoter reserves the right at all times to substitute elements of the Promotion.
Contest registration prior to 21/01/2013 confirms acceptance of these rules as final and legally binding.
The promoter reserves the right to refuse to provide a pie to anyone in breach of the terms and conditions.
The Promoter reserves the right to cancel this promotion and to make any amendment or addition to these terms.
The Promoter accepts no responsibility for electronic activations that are not received or delivered.
viagogo terms and conditions
The Promotion shall be governed by English Law.
Promoter of this competition is : viagogo, Swiss Post Box: 100580, Zürcherstrasse 161, 8010 Zürich, CH.